Pen stroke recognition
A couple of months back, before I bought my Tablet PC, I tried to understand how pen input recognition works.
Not being overly ambitious I looked at single stroke character or Graffiti-like recognizers. The result of a week-end of tweaking is a C# winforms recognizer, that only requires the .NET SDK (no Tablet PC).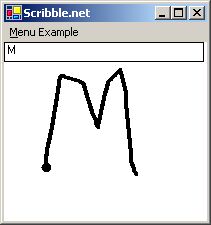 Intro
The two main categories of handwritting recognizers are single-stroke (unistroke) and multi-stroke.
Palm and PocketPC only support a simplified unistroke alphabet, as it is easier to recognize.
If you don't have Palm you can try the online Graffiti demo (requires Java).
On the other hand, Tablet PC has a multi-stroke regognizer, that support real-life handwritting (at least with my handwritting ;-).
Google
After some search on the subject, I was able to find at least two documented methods of recognizing unistroke alphabets.
One is base on the Rubine algorithm, which I didn't get to understand very well.
The other is based on the representation of a stroke as a serie of directions. I don't know the name for this algorithm, I call it the gesture recognizer, as I found it used for this purpose.
The gesture recognizer
In this model, a stroke is represented by a serie of directions (Up, Up-and-Left, Left,...).
The reference strokes are represented as a sequence of directions as well, or even as a regex of directions (Up Up-and-Left? Left).
After being normalized to this format, it is easy to compare an input with each reference letter to find out which one matches.
The Mozilla gesture recognizer uses this model and its source code can be found on the Mozilla CVS web. The code contains some good info in gestures.js and gestimp.js.
I did not experiment with this method, but would expect it to be rather cheap computationally. Also I wonder if it is powerful enough to recognize a full Graffiti-like alphabet.
Graffiti demo
After finding the Graffiti demo applet I started reverse engineering it and decompiling it.
The demo is simple enough and it doesn't contain many classes. So method by method I went through the decompiled code and figured out the algorithm, commenting out the code and renaming variables to make sense.
The principle for the Graffiti demo is that every stroke is normalized by bringing it back into a unit square and with a constant number of interpolations. The reference alphabet is also normalized.
Then the input stroke is compared to each reference stroke, by computing the distance between them, point by point.
The reference stroke that is found to be the closest is the match.
A manual refinement step is then applied to improve the result for letters that looks alike (like L and h, or D and P).
Installing C# Graffiti
First, if you want to try my version of the Graffiti recognizer, go to my cvs repository and download MainForm.cs. Update: CVS is down (I only have a web hosting solution for now), so I made a copy of MainForm.cs, that you can download.
Then run csc MainForm.cs.
You'll get a MainForm.exe executable that you can run. Try drawing Graffiti symbols in the form.
The Graffiti alpahabet that I used is slightly different than Palm's, but most letters are the same. The C# Graffiti also contains a digit recognizer but you need to change the code a little bit to use it.
C# Graffiti code details
In terms of improvements, I cleaned up the code so that it should be easier to have a recognizer for letters, one for digits and also to add custom alphabets.
There is also one thing that is bad with the Graffiti demo: it always finds a match, whatever you draw in. To resolve this, I added a constraint verification phase at the end of the recognition phase, that verifies that if an A was matched, the ends of the stroke should be in the lower left quadrant and in the lower right quadrant, for example. Other types of constraints are applied on a case by case basis, like the directory of the ends: the ends of C should point toward the right, for example.
Also there is another restriction on the quality of the matches: if the distance between the stroke and the matched letter is greater than a certain threshold, the match is discarded.
Future
Overall I am pretty happy with the result. But I recently got a Tablet PC, which includes the PocketPC recognizer in addition the multi-stroke recognizer, and for some reason I find it pretty inaccurate and uncomfortable.
So I plan on porting my C# recognizer to the Ink API for custom recognizers for Tablet PC, someday.
The ultimate feature that I find missing for Tablet PCs is some way of actually programming using the pen. Using heavy auto-completion with some heuristics and improved UI (most common completions should be easy to reach), automatic code beautifying and some smart shortcuts (IF should directly display an extra pair of parenthesis and curly brackets), it should be possible to minimize the typing required.
I hope you have fun with stroke recognition,
Dumky
Some more related links:
Another stroke recognition engine, used in Emacs
Update: Here's the location for the new Palm Graffiti page. It has a demo applet for Graffiti 2 as well.
Posted by Julien on February 19, 2003. Permalink